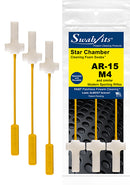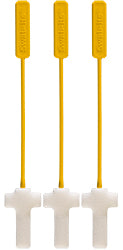 Description
Star Chamber Cleaning Foam Swabs™
Single bag includes (3) Star Chamber Cleaning Foam Swabs™
Case includes (12) bags each containing (3) Star Chamber Cleaning Foam Swabs™
Finally, a Star Chamber cleaner that works!
Without a doubt, the MSR is one of the most popular and exciting rifles to own and shoot. Every owner knows it is a challenging rifle to clean. Swab-its® Star Chamber Cleaning Foam Swabs™, are designed to access hard to reach areas in your firearm that have been difficult to effectively clean and lubricate.
The star chamber, also known as the barrel extension, is the area where the barrel and the upper receiver of the MSR fit and meet. The chamber between the locking lugs of the barrel extension is notorious for being a nightmare to clean. This is in part due to the unique design and accessibility of the area which contributes to the difficulty in removing fouling and debris.  
Swab-its®  Star Chamber Cleaning Foam Swabs™:
Includes 3 Star Chamber Cleaning Foam Swabs™ per bag
Easily reaches 360 degrees of the Barrel Extension chamber
Wings easily penetrate locking lugs
Doubles as Empty Chamber Indicator
Precision cleaning and lubricating tool
Lint and fiber free
Economical - washable and reusable
NOTES:
Swab-its Star Chamber Cleaning Foam Swabs design is for the MSR platforms. 
Each tip can be used multiple times and should substantially outlast a similarly priced bag of patches, mops, and felt pads.
Does not last very long
These do work and are effective at what they do. But they wear and tear fast. Mine started to tear within three cleaning sections. One even broke off completely. And with only three included per pack, it will get expensive as you use them.
Great
Quick shipping and delivery. Highly recommend this company. Works as advertised and very pleased
Outstanding, versatile, effective beyond ARs
I'm a born skeptic, but tried these out on a whim. Very glad I did, because these - along w/ several other Swab-Its products - have become my go-to for AR & pistol cleaning.
I also use them for many other little household/shop tasks, including cleaning the weekly accumulation of dust/grime that collects in my kydex holsters. The foam-like material compresses into tight spots and cleans them very well.
I clean dust from my stereo knobs, edges of my laptop's ports, all over my truck's dash/stereo nooks & crannies.
But back to guns, a single AR chamber Swab-It can not only clean the chamber, but compresses to clean/lube the leade/freebore areas as well. It'll clean the crap from between rails, optics, muzzle devices, et (many) al.
I sometimes use the same AR Swab-It to also clean my Glocks and/or other 9mm pistols. The AR swab easily fits to clean the 9mm chamber and bbl while still maintaining a firm contact w/ the metal. Clearly, it's intended to be for .223cal/5.56mm AR chambers - BUT - it's only really limited by your imagination & stuff you need cleaned/dusted.
Two quick caveats to my praises of Swab-Its:
1. The prices are too high, bottom line. Amazon often has them priced less than the website. If you have Amazon Prime, you get free 2-day shipping, too.
2. They're advertised as being reusable - and that's true, to a certain point. Within reason, the statement is true. I've cleaned MANY of mine w/ 70-99% alcohol, have them a squeeze, let dry, and it's ready for action again.
There is obviously no way I can tell you accurately how many uses YOU will get w/ yours. Depending on how rough you are, what you're cleaning, what solvent you're using, and the number of times that particular swab has been used, you may get a dozen (or more) uses from a single Swab-It. Or maybe just once.
Soapy water may be better for the material than alcohol. So yes, they ARE reusable; but be nice to them and they'll be nice to you.
Buy w/ confidence.
Ingenious!
Seriously, this is one of those products that you buy and you think, why didn't I think of this. Swab-its struck gold by creating this product. As a member of the Army I have spent countless hours cleaning an M-16 or M4 with countless times having the armorer turn me away because the star chamber wasn't clean. This perfect little tool will get your star chamber clean every time the first time. It reaches those hard to get spots you can't get with conventional cleaning tools. It also holds so much cleaning/lubrications solution. Lastly, it's not designed to clean the rest of the firearm but I was able to use it for that as well. If you only used it for the star chamber it's durability is great. But I would buy it if it was a one time use anyways, just based off of pure functionality purposes. All servicemen and women will rejoice upon using this product! Job well done Swab-its.
Nice but costly
These are pretty good at their intended purpose, but not as durable as led to believe. Pretty fragile actually. So there for expensive.
Payment & Security
Your payment information is processed securely. We do not store credit card details nor have access to your credit card information.