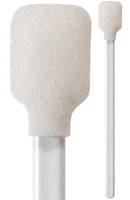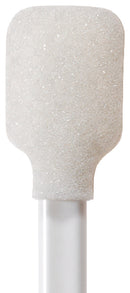 説明
部品番号:71-4500
購入オプション:
50綿棒のバッグ
500綿棒のバッグ
2,500本の綿棒の場合(500年代に袋詰め)
5,000本の綿棒の場合(500個入り-2箱で出荷)
製品説明:
5.19インチの大きな長方形のフォームミットスワブ。ポリプロピレンプラスチックハンドル上の白い非網状ポリウレタンフォーム。
ヘッド幅:17mm、.66インチ
ヘッドの長さ:25mm、1インチ
ハンドル幅:6mm、0.25インチ
ハンドルの長さ:126mm、4.95インチ
全長:132mm、5.19インチ
ノート:
通常、すべてのケースはタイムリーに(2〜4営業日)発送されますが、ピーク時には

 

場合

 

製造および出荷には数週間かかる場合があります。配送についてご不明な点がございましたら、直接メールでお問い合わせください。

 

customerservice@swab-its.com。ケースの注文は、注文日に生産が開始されます。
Work great!
I've been using these for years to clean UV flatbed printer heads.
Works great
They work great for I need them for. I have been using these for years.
Better mousetrap!
In the search for the best gun cleaning products, you'll find plenty of options. Most revolve around some sort of q-tip product or another. All my friends use everyday q-tips, but I never understood why, as they leave fuzz in all the wrong places. Yes, they're dirt cheap, but your gun isn't- get my drift? The 71-4500 swab is PERFECT for so many different handgun cleaning tasks. Cleaning your magwell, cleaning your magazines... you name it. Of course this swab is broader than your garden variety q-tip, but that's why they're so good. As it's foam you can't scrub briskly, you've got to use a little restraint, but so what- the head will do what you need it to. The handle is not stiff like a board and is a good length for lots of calibers. Stop using lint/fuzz sticks! Pay the extra for the Swab-It!
Foam swabs highly recommended!
I highly recommend the foam swabs. I use them often when detailing my car. In addition to using the swabs when detailing my car I have found many used for them around the house when cleaning in small spaces. The price for 500 swabs was quite reasonable!
No Problems!
We use them all day long, 100% satisfied
支払いと保安
お支払い情報は安全に処理されます。当社はクレジットカード情報を保存したり、クレジットカード情報にアクセスしたりしません。