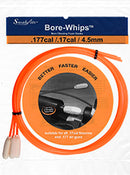 説明
.17cal / .177cal /4.5mmエアライフルガンクリーニングボアホイップ™bySwab-its®
1つのバッグには(3)Bore-Whips™が含まれています
ケースには(12)Bore-Whips™のバッグが含まれています-各バッグには(3)Bore-Whips™が含まれています
製品説明:
.177 / 4.5mm口径のプルスルー設計の半透明ホイップは、空のチャンバーインジケーター(ECI)として機能します。ボアホイップは、センターファイアとリムファイアに等しく熟練している一方で、エアガンのクリーニングの要求に特に適しています。優れた範囲のバッグの追加であるボアホイップは、アクセスがより困難なガンのクリーニングと潤滑を簡素化します。
ノート:
バッグには3つのBore-Whips™が含まれています
各チップは複数回使用でき、同様の価格のパッチバッグよりも大幅に長持ちするはずです。
洗えると再利用可能
糸くずや繊維がない
Swabs for air rifle
.177 swabs are a great addition to the air rifle kit. Convenient and efficient. Super easy to use. Swabs rifle bore with little effort. Like the re-usability. I use a Sharpie to mark the end of the swabs, 1,2,3.
Works like a charm on my .204 Ruger
Could not find an all nylon jag to clean my .204. I don't use metallic bristle brushes or jags that have metal threads to clean the bore. I use a foam bore cleaner that is left in barrel over night and the swab-its .177
pull through gets the job done with just a few passes. And no metal to scratch the bore.
Love em
Make bore cleaning fast and easy.
Best thing since sliced bread
I recently bought the swab-its for .177 and .22 caliber air guns. The BEST I have ever tried. Previously I have been using another pull through cleaner but didn't like because of the brass bristles (air guns tend to have soft barrels) and I was concerned about this. No more worries, just clean barrels. Thanks for a GREAT product, I will be buying more!!
17 caliber Bore Whips
the Bore Whips are the best barrel cleaning devices I have ever used and they work very well on the .204 Ruger I own too.Keep up the great work as I am going to buy more whips tips and swab tips soon. thanks
支払いと保安
お支払い情報は安全に処理されます。当社はクレジットカード情報を保存したり、クレジットカード情報にアクセスしたりしません。