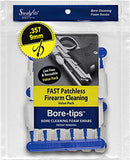 説明
.357cal/.38cal/.380cal/9mmガンクリーニングボアチップ®
製品の説明:
キャリバー固有の、ボアチップは、100%ボアコンタクトのために設計されたタフで再利用可能な泡のヒントです。糸くずや繊維のないモップやパッチよりも均等に流体を広げます。 その非研磨フォームは、彼らの吸収性がより少ない溶媒/潤滑剤を必要としながら、彼らは両方向に実行することができます。 洗濯可能で再利用可能な、それらは8/32糸が付いた標準的な棒に付す。 357/9mmボアチップは.38、.380、.38-55ウィンチェスター、.350レミントンマグ、9x18マカロフなどでも動作します。
ノート:
バッグにはランナーに6つのボアチップ®が入っています。
各チップは複数回使用することができ、実質的にパッチの同様の価格の袋を上回る必要があります。
洗濯可能で再利用可能
リントフリー、繊維フリー
Happy cleaner
I was very happy with these swab they clean an last a long time
Future of cleaning
Far superior than the patches . No need to change in every pass and try to fit the patch . If you use a good bore cleaner you probably do not even need a brush . Just pass this , rapidly clean with a towel then pass again that simple. I used it to clean 3 guns and lasted 2 sessions . I clean them with alcohol not dish washer and it cleans very well without the need to let dry
So Good It's Craaaaazy!!
Chore no more! Well thought out system.Holds cleaner and oil like a champ.These can be cleaned and re-used.A little dish soap and warm water & almost new again. I'll be ordering more,no doubt!
Wow What A Great Clean
Please add a short rod in the package to connect to the swab? First time pistol owners can use your product and not haft to buy a typical gun cleaning kit. This will attract more people.
支払いと保安
お支払い情報は安全に処理されます。当社はクレジットカード情報を保存したり、クレジットカード情報にアクセスしたりしません。