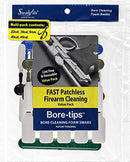 説明
Swab-its®スペシャルマルチサイズバリューパック: Bore-tips®(6).22cal、(6).30cal、(6).357cal、(5).40cal、および(5).45calが含まれています。合計28個のBore-tips®
シングルバッグには、(1)セットが含まれています:.22cal、.30cal、.357 cal、.40cal、.45cal
ケースには、(4)マルチサイズバリューパッケージのパッケージが含まれます
特徴:
多様性と節約を提供するマルチパックは、5つの口径固有のボアチップサイズを提供します。これらは、100%ボアコンタクト用に設計された丈夫で再利用可能なフォームチップです。糸くずや繊維のないモップやパッチよりも均一に液体を広げます。洗って再利用できるので、8/32ネジで標準のライフルとピストルのロッドに取り付けられます。マルチパックには28本の綿棒が含まれています:6本の.22 / 5.56、6本の.357 / 9mm、6本の.30 / 7.62、5本の.40 / 10mm、5本の.45 /11.5mm。
ノート:
これには、複数のランナーが含まれます:.22cal、.30cal、.357cal、.40cal、および.45cal
28個のBore-tips®が含まれています
各チップは複数回使用でき、同様の価格のパッチバッグよりも大幅に長持ちするはずです。
洗えると再利用可能
糸くずや繊維がない
Great product
I like the ability to rinse and reuse them.no need for so many patches.Great idea, A++?
Highly recommended
I think the swab its make gun cleaning very easy and a pleasure to do. They also clean up nicely as stated. I also think they are worth the money you spend for them. I myself will be purchasing more.
The greatest thing since bullets
The day after I received them I cleaned 6 of my hand guns and I was so surprised at how well they worked and it made the cleaning fun. No more patches and now I enjoy cleaning my guns.
P.S. I cleaned my wife's 22 pistol which I cleaned a week before and was surprised how much cleaner I this gun got using the Swab its. This is a great product and I can't wait till the shot gun ones come out.
Unsure At First
I was doubtful as too how these little foam swabs would work, I was thinking they were going to fall apart! How wrong I was! After a training session, I used the 40 cal. swab and my partner used the 9mm swabs to clean our weapons. Much to both our amazement they performed flawlessly and, more importrantly held together! We both agreed our weapons have never been cleaner! You now have two new converts! We both are now trying to convince others in our group to give them a try! I intend to to try more of your products!
Great Product!!
These are the greatest I've found yet for cleaning your firearms. I bought them for all calibers of guns I own. I've used, and loved, the Otis system but, would still find fibers left behind by the patches. NO FIBERS or other debris found after using Swab-Its. The inventors hit a "home run" with these handy little swabs! The "stick" type swabs they sell are also fantastic at getting into tight places.
支払いと保安
お支払い情報は安全に処理されます。当社はクレジットカード情報を保存したり、クレジットカード情報にアクセスしたりしません。