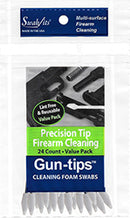 説明
3 "Precision Tip GunCleaningSwabGun-tips®bySwab-its
オプションの購入:
(24)Gun-tips®付きシングルバッグ
各バッグに(24)Gun-tips®を含む(12バッグ)のバリューケース
各バッグに(24)Gun-tips®を含む(24バッグ)のバリューケース
製品説明:
ガンチップは、糸くずや繊維を残さない綿棒の強力で耐久性のある代替品です。それらは4つのサイズで提供され、角を丸めるのに十分な柔軟性がありますが、破損に耐えるのに十分な強度があります。ガンチップも洗って再利用できます。 3インチの精密チップスワブは、トリガーとフレーム、スライドレール、バレルリンク、トリガーアセンブリ、コンペンセータ、バレル延長とラグのくぼみ、ボルトカム、抽出ポート、およびその他の手の届きにくい領域に特に効果的です。また、ピンポイントの精度で潤滑/グリースを塗布するのにも最適です。
ノート:
バッグには24個のGun-tips®が含まれています
各チップは複数回使用できます
綿棒を交換します
洗えると再利用可能
糸くずや繊維がない
Love Swab its!
Swab its have made gun cleaning such a virtually hassle free proposition. The 3" precision tip is ideal for getting into those hard to get at areas to clean or lube. Excellent value and re-usable to boot (cleaning them is easy). Really enjoy using Swab its and hope to continue to do so for a long time to come.
Very pleased return customer
I am always pleased with the Swab-its products, that is why I am a return customer.
My main use is for cleaning assorted firearms for both myself and others.
I like the fact that you can clean them with mild soap and water for reuse which is a great cost savings.
I use the precision tip and spear tip for cleaning recessed sight alignment dots of dust and dirt.
They are also very good for all the nooks and crannies you usually overlook when cleaning.
Highly Recommend
As a Weapon Armorer, these Swab-its are great for absorbing solvents and getting in to tight spots. Easy to clean up and reuse over and over. Swab-its are a great product.
a little short
Work great for cleaning corners and other narrow spots.
支払いと保安
お支払い情報は安全に処理されます。当社はクレジットカード情報を保存したり、クレジットカード情報にアクセスしたりしません。