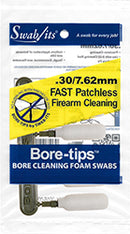 説明
.30cal /7.62mmガンクリーニングボアチップ®bySwab-its®
1つのバッグに(6)Bore-tips®が含まれています
バリューバッグには(36)Bore-tips®が含まれています
ケースには(12)Bore-tips®のバッグが含まれています-各バッグには(6)Bore-Bore-tips®が含まれています
ケースには(100)Bore-tips®のバッグが含まれています-各バッグには(6)Bore-Bore-tips®が含まれています
製品説明:
キャリバー固有のボアチップは、100%ボアコンタクト用に設計された丈夫で再利用可能なフォームチップです。糸くずや繊維のないモップやパッチよりも均一に液体を広げます。それらの非研磨性フォームは、それらを両方向に動かすことを可能にし、それらの吸収性はより少ない溶媒/潤滑剤を必要とします。洗って再利用できるので、8/32ネジの標準的なライフルロッドに取り付けられます。 .30cal / 7.62は、AR-10プラットフォーム、.308、30-06、30-30などでうまく機能します。
ノート:
バッグには、ランナーに6つのBore-tips®が含まれています。
各チップは複数回使用でき、同様の価格のパッチバッグよりも大幅に長持ちするはずです。
洗えると再利用可能
糸くずや繊維がない
Unique piece
After purchasing the swab it for 22 caliber and liking the job it did I read some reviews of the 30 caliber that weren't very favorable. I decided to try it on my own and I'm very happy with the results.
environmentally friendly
I purchased some for all my calipers. Very satisfied with the quality. Easy to clean for reuse. An excellent idea for gifting.
Swab it .30/7.62
The 7.62/.30 works great. It is an awesome addition to my cleaning tools and I expect my clients will be interested in it too. Shipped quickly, no issues, minimal packaging which is good. All in all a great purchase and even better, it's economical. Thank you Swab it!!!!!!
Great swabs
While I have not used these swabs for a .30 barrel, I have been using them for cleaning out some stainless steel tubing that is the same size and these have heard up great. They do a better job of cleaning and last longer than the other pads i have been trying. These will be in my toolbox for cleaning for years to come.
Excellentscrubbers
These work very well for scrubbing (light build-up)but really shine when used as the last step after solvent is in the bore....one final push with a clean Bore-tip and junk pops out of the grooves like magic.
支払いと保安
お支払い情報は安全に処理されます。当社はクレジットカード情報を保存したり、クレジットカード情報にアクセスしたりしません。