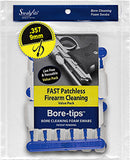 Description
.357cal/.38cal/.380cal/9mm Gun Cleaning Bore-tips®
A value bag contains (36) Bore-tips®
PRODUCT DESCRIPTION:
Caliber specific, Bore-tips are tough, reusable foam tips engineered for 100% bore contact; spreading fluids more evenly than mops and patches without lint or fibers.  Their non-abrasive foam allows them to be run in both directions, while their absorbency requires less solvent/lubricant.  Washable and reusable, they affix to a standard rod with 8/32 thread.  The .357/9mm Bore-tip also work with .38, .380, .38-55 Winchester, .350 Remington Mag, 9x18 Makarov and more. 
NOTES:
A bag contains 36 Bore-tips. 
Each tip can be used multiple times and should substantially outlast a similar priced bag of patches.
Washable and reusable
Lint-free and fiber-free
Happy cleaner
I was very happy with these swab they clean an last a long time
Future of cleaning
Far superior than the patches . No need to change in every pass and try to fit the patch . If you use a good bore cleaner you probably do not even need a brush . Just pass this , rapidly clean with a towel then pass again that simple. I used it to clean 3 guns and lasted 2 sessions . I clean them with alcohol not dish washer and it cleans very well without the need to let dry
So Good It's Craaaaazy!!
Chore no more! Well thought out system.Holds cleaner and oil like a champ.These can be cleaned and re-used.A little dish soap and warm water & almost new again. I'll be ordering more,no doubt!
Wow What A Great Clean
Please add a short rod in the package to connect to the swab? First time pistol owners can use your product and not haft to buy a typical gun cleaning kit. This will attract more people.
Payment & Security
Your payment information is processed securely. We do not store credit card details nor have access to your credit card information.