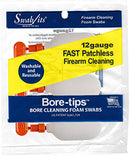 Description
12 Gauge Gun Cleaning Bore-tips®
A case contains (12) bags of Bore-tips® - each bag containing (3) Bore-Bore-tips®
PRODUCT DESCRIPTION:
12ga Bore-tips are tough, reusable foam tips engineered for 100% bore contact; spreading fluids more evenly than mops and patches without lint or fibers.  Their non-abrasive foam allows them to be run in both directions, while their absorbency requires less solvent/lubricant.  Washable and reusable, they affix to a standard shotgun rod with 5/16-27 threading.  For those with a .30 caliber rifle, the 12ga is also a perfectly sized chamber brush, allowing one to easily swab the receiver.  
NOTES:
A bag contains 3 Bore-tips®
Each tip can be used multiple times and should substantially outlast a similar priced bag of patches.
Washable and reusable
Lint-free and fiber-free
Works Great!
I love Swab-its Bore-tips?! They are the perfect tool for cleaning firearms! They do a wonderful job of removing powder residue and make lubricating easy and efficient! Highly recommend them to any and all!
Good for an AR, too.
Perfect for shotguns. Try also using it to clean your AR upper.
Fits perfect and does a great job.
Payment & Security
Your payment information is processed securely. We do not store credit card details nor have access to your credit card information.