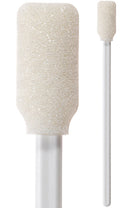 Description
Part Number: 71-4501
Buying Options:
Bag of 50 Swabs
Bag of 500 Swabs
Case of 2,000 Swabs (Bagged in 500's)
Case of 4,000 Swabs (Bagged in 500's - Shipped in 2 Boxes)
Case of 6,000 Swabs (Bagged in 500's - Shipped in 3 Boxes)
Product Description: 
5" rectangular foam mitt swab. White non-reticulated polyurethane foam on a polypropylene plastic handle.
Head Width: 13mm, .50"
Head Length: 25mm, 1"
Handle Width: 5mm, .19"
Handle Length: 125mm, 4.92"
Overall Length: 129mm, 5.063"
Notes:
All cases usually ship within a timely manner (2-4 business days), however, in peak times this

 

case

 

may take several weeks to manufacture and ship. If you have a question about shipping please email us directly at

 

customerservice@swab-its.com. Your case order gets into production on the day of order!
Love them. I use them for applying an adhesion promoter to angled and tight surfaces on automobiles before installing a clear protection product. They're perfect for the job.
Digital Printer
I sue them for my mimaki digital printer, they have more uses than just cleaning guns.
A recommendation
I have used the cleaning swabs quite a bit. If you clean with soap and water, they seem to hold together- for awhile. If you use a solvent of some sort to clean the swab it, the glue releases and the item becomes useless.
good job
Nice click ung start bog giniyas
Perfect
Perfect size to clean my Roland sp540. Great quality. Cheap and shipped fast too. Will be ordering again for sure,,better than ebay or amazon.
Payment & Security
Your payment information is processed securely. We do not store credit card details nor have access to your credit card information.