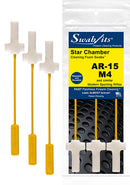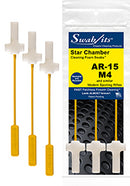 Description
Star Chamber Cleaning Foam Swabs™
Case includes (12) bags each containing (3) Star Chamber Cleaning Foam Swabs™
Finally, a Star Chamber cleaner that works!
Without a doubt, the MSR is one of the most popular and exciting rifles to own and shoot. Every owner knows it is a challenging rifle to clean. Swab-its® Star Chamber Cleaning Foam Swabs™, are designed to access hard to reach areas in your firearm that have been difficult to effectively clean and lubricate.
The star chamber, also known as the barrel extension, is the area where the barrel and the upper receiver of the MSR fit and meet. The chamber between the locking lugs of the barrel extension is notorious for being a nightmare to clean. This is in part due to the unique design and accessibility of the area which contributes to the difficulty in removing fouling and debris.  
Swab-its®  Star Chamber Cleaning Foam Swabs™:
Includes 3 Star Chamber Cleaning Foam Swabs™ per bag
Easily reaches 360 degrees of the Barrel Extension chamber
Wings easily penetrate locking lugs
Doubles as Empty Chamber Indicator
Precision cleaning and lubricating tool
Lint and fiber free
Economical - washable and reusable
NOTES:
Swab-its Star Chamber Cleaning Foam Swabs design is for the MSR platforms. 
Each tip can be used multiple times and should substantially outlast a similarly priced bag of patches, mops, and felt pads.
Payment & Security
Your payment information is processed securely. We do not store credit card details nor have access to your credit card information.