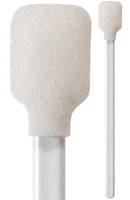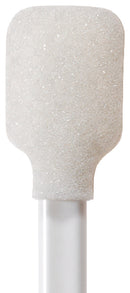 Description
Part Number: 71-4500
Buying Options:
Bag of 50 Swabs
Bag of 500 Swabs
Case of 2,500 Swabs (Bagged in 500's)
Case of 5,000 Swabs (Bagged in 500's - Shipped in 2 Boxes)
Product Description: 
5.19" large rectangular foam mitt swab. White non-reticulated polyurethane foam on a polypropylene plastic handle.
Head Width: 16mm, .66"
Head Length: 25mm, 1"
Handle Width: 6mm, .26"
Handle Length: 125mm, 4.95"
Overall Length: 131mm, 5.19"
Notes:
All cases usually ship within a timely manner (2-4 business days), however, in peak times this

 

case

 

may take several weeks to manufacture and ship. If you have a question about shipping please email us directly at

 

customerservice@swab-its.com. Your case order gets into production on the day of the order!
Work great!
I've been using these for years to clean UV flatbed printer heads.
Works great
They work great for I need them for. I have been using these for years.
Better mousetrap!
In the search for the best gun cleaning products, you'll find plenty of options. Most revolve around some sort of q-tip product or another. All my friends use everyday q-tips, but I never understood why, as they leave fuzz in all the wrong places. Yes, they're dirt cheap, but your gun isn't- get my drift? The 71-4500 swab is PERFECT for so many different handgun cleaning tasks. Cleaning your magwell, cleaning your magazines... you name it. Of course this swab is broader than your garden variety q-tip, but that's why they're so good. As it's foam you can't scrub briskly, you've got to use a little restraint, but so what- the head will do what you need it to. The handle is not stiff like a board and is a good length for lots of calibers. Stop using lint/fuzz sticks! Pay the extra for the Swab-It!
Foam swabs highly recommended!
I highly recommend the foam swabs. I use them often when detailing my car. In addition to using the swabs when detailing my car I have found many used for them around the house when cleaning in small spaces. The price for 500 swabs was quite reasonable!
No Problems!
We use them all day long, 100% satisfied
Payment & Security
Your payment information is processed securely. We do not store credit card details nor have access to your credit card information.