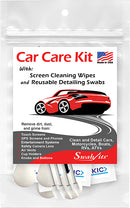 Description
Swab-its® 12-piece Car Care Kit with Screen Wipes & Reusable Detailing Swabs Swab-its® swabs are perfect for hard-to-reach areas like air vents, seams of seats, buttons, and knobs.
Includes 12-pieces
This kit includes Screen Cleaning Wipes
4 Screen Cleaning Wipes
4 Spear Tip Shaped Foam Heads
4 Large Circular Shaped Foam Heads
Ultra Soft Foam Heads, Safe For Delicate Jobs
Cleans in a Variety of Places
Great For Cleaning Cracks and Crevices
These swabs will reach the areas that other tools cant!

Great for cleaning touch screens, entertainment systems, vents, cup holders, knobs, buttons, and all hard-to-reach places.
Payment & Security
Your payment information is processed securely. We do not store credit card details nor have access to your credit card information.