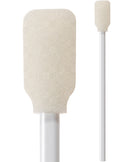 Description
FLASH SALE - ONLINE ONLY SALE
Part Number: 74-0113
Bag of 500 Foam Swabs - Sold as is
5" Foam Swab
Rectangular Foam Head on Extruded Handle
Perfect for printer cleaning, firearm cleaning, applying, painting, cleaning, detailing and more!
A good, useful tool for cleaning
The Swab-its foam pad cleaners are a great addition to Q-tips when cleaning one's revolvers and semi-auto weapons. I haven't tried washing them yet, but I can see adding them to the machine, along with dirty bore-snakes (bundled with a rubber band). Well worth the money.
Payment & Security
Your payment information is processed securely. We do not store credit card details nor have access to your credit card information.