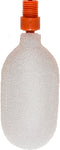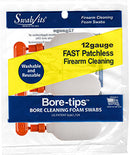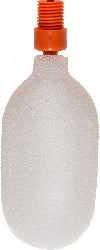 Description
12 Gauge Gun Cleaning Bore-tips®
A single bag contains (3) Bore-tips®
A case contains (12) bags of Bore-tips® - each bag containing (3) Bore-Bore-tips®
A case contains (100) bags of Bore-tips® - each bag containing (3) Bore-Bore-tips®
PRODUCT DESCRIPTION:
12ga Bore-tips are tough, reusable foam tips engineered for 100% bore contact; spreading fluids more evenly than mops and patches without lint or fibers.  Their non-abrasive foam allows them to be run in both directions, while their absorbency requires less solvent/lubricant.  Washable and reusable, they affix to a standard shotgun rod with 5/16-27 threading.  For those with a .30 caliber rifle, the 12ga is also a perfectly sized chamber brush, allowing one to easily swab the receiver.  
NOTES:
A bag contains 3 Bore-tips®
Each tip can be used multiple times and should substantially outlast a similar priced bag of patches.
Washable and reusable
Lint-free and fiber-free
Perfect
These 12 ga swab it's are perfect. Much better than patches or cotton/wool swabs.
No loose fibers. They clean up easily for reuse. Will purchase more for my hand guns.
Not Just For 12ga Anymore
The 12ga swab easily and carefully gets at the aggravating-to-clean chamber area of precision and AR-style .30 caliber rifles. Can even spin it with a hand drill if you want to go harder. And if you ride in too far, doesn't really matter, nothing about the swab can injure the throat. Works brilliantly and delicate too.
Love these
With the new cheap shot shells having steel case heads rather than brass, a polished chamber is extremely important for reliable extraction. I soaked one of these bad boys with metal polish and quickly brought my chambers to a mirror finish. I then cleaned it with Dawn and warm water and it looks un used. I was proud to be one of the product testers for these. Buy 'em. You'll find many uses for them besides cleaning.
highly recommended
great product. use on all my small bores, .204, .22, .223,.
hope you eventually make for blackpowder .45 and .50 cal.
Convenient to Use and Reuse
These swabs are very convenient to use in my 12 ga shotguns. The only alternative I have found is a 12 ga cotton mop pushing a patch. The mop is much harder to clean afterwards, and with the swab-it, there is no need for patches.
Payment & Security
Your payment information is processed securely. We do not store credit card details nor have access to your credit card information.