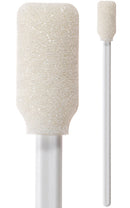 Description
Swab-its® 56-4501-SB-25 is a single 71-4501 style swab pre-saturated with 1ml of 70% Isopropyl alcohol.
Bag of 25 Swabs: 25 IPA swabs in a bag, shipped in a shipper box.
This IPA swab is the 71-4501 with a IPA solution in a foil wrapped pouch.
5" polypropylene plastic handle with large rectangular foam tip mitt.
Foam Swab Dimensions
Head Width: 13mm, .51"
Head Length: 24mm, .94"
Handle Width: 5mm, .19"
Handle Length: 125mm, 5.06"
Awesome buy
Very easy to deal with, place your order, pay and the order arrives in a timely manner!
Payment & Security
Your payment information is processed securely. We do not store credit card details nor have access to your credit card information.