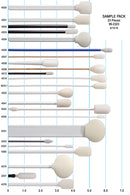 Description
Item Number 99-23. Swab-its® Introduction Kit
This includes all of our best selling foam swabs and is a great kit to see a wide range of our offerings a low cost.
Bag includes a mix of 20+ of our most popular swabs:
Includes Some of the Following Foam Swabs
Bore-tips®
71-4500 - 5" Square Head Foam Swab
71-4501 - 5" Large Rectangular Foam Swab
71-4502 - 4.25" Small Flexor Foam Swab
71-4503 - 4.50" Small Flexor Foam Swab
71-4504 - 5" Small Circular Foam Swab
71-4505 - 6" Flexible Cleaning Foam Swab
71-4507 - 6" Swabstick With Wooden Handle
71-4508 - 3" Keyboard Foam Swab
71-4512 - 3" Mini Tip Foam Swab
71-4522 - 4" Tear Drop Foam Swab
71-4543 - 6" Double Ended Foam Swab - Bulb Tip and Spear Tip
71-4551 - 6" Flat Handle with 1.2" Diameter Mitt Foam Swab
71-4553 - 2.78" Small Spear Tip Foam Swab
Kit inlcudes many more foam swabs!
Note: All Swabs in Intro Kit are Non-Sterile Swabs
An excellent product sample.
I have purchased several items from Swab-It in the past and totally satisfied.
The sample kit has shown more options that I will be purchasing in the future!
Great selection to help you make future decisions.
The introductory sample kit of all the popular swabs is great. Order this first because it really lets you see what you like and then order the proper items that work for you. Use Dawn dishwashing liquid to clean. Best product I've found to work on my multiple firearms. Also use the long handle ones to lube the sunroof on my Super Duty. This is a great company to work with. Their prices and shipping can't be beat.
Good Product
The swabs work well in getting into hard to reach places in a gun's mechanism. Have not tried the bore swabs yet as only one caliber was provided which I haven't used yet. Will try to clean with mineral spirits next time as soap and water took some time and left some stains/residue on swab.
Payment & Security
Your payment information is processed securely. We do not store credit card details nor have access to your credit card information.