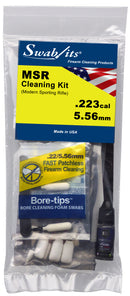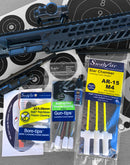 Description
Swab-its® .223/5.56mm MSR Firearm Cleaning Kit
 A single bag contains (1) kits
 A (12) bag case contains (12) kits
Reach a new state off flawless functionality with Swab-its® .223/5.56mm MSR Cleaning Kit. Using lint-free and reusable tools combined with BREAKTHROUGH® Battle Born HP PRO users can clean, maintain, and preserve MSRs.
Modern tools specifically engineered for the Modern Sporting Rifle! Pick up a pack today.
Includes:
Swab-its® Star Chamber Cleaning Foam Swabs™:  Effectively cleans the barrel extension and locking lugs.
Swab-its® .223cal/5.56mm Bore-tips®:  Penetrate the deepest rifling and achieve 360-degrees of bore contact. Threads into 8/32 cleaning rod (not included).
Swab-its® 9-piece Multi-Surface Gun-tips®: Four unique swabs designed to reach and clean triggers, bolts, and chambers. 
BREAKTHROUGH® Clean Technologies Battle Born HP Pro 0.4FL oz: Provides long-lasting corrosion protection and lubrication.
BREAKTHROUGH is a registered trademark of Inland Technology, Inc.
Find more information on BREAKTHROUGH® Clean Technologies Battle Born HP PRO by visiting the
Technical Data Sheet
Ordered most of your offers
I am very happy with all your products, Cleaning up after use is easy and I am using Robbing Alcohol which works quickly and dry's faster than mineral sprits and it's safe for washing down the drain without harming the environment.
Thanks for your great products.
Payment & Security
Your payment information is processed securely. We do not store credit card details nor have access to your credit card information.