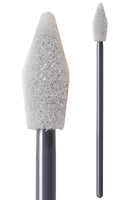 Description
Part Number: 71-4553
Buying Options:
Bag of 50 Swabs
Bag of 500 Swabs
Case of 2,500 Swabs (Bagged in 500's)
Case of 5,000 Swabs (Bagged in 500's)
Product Description: 
2.83" spear tip shaped foam mitt swab. White non-reticulated polyurethane foam on a tapered gray polypropylene plastic handle.
Head Width: 6mm, .24"
Head Length: 14mm, .56"
Handle OD: 1mm, .050"
Handle Length: 69mm, 2.74"
Overall Length: 71mm, 2.830"
Notes:
All cases usually ship within a timely manner (2-4 business days), however, in peak times this

 

case

 

may take several weeks to manufacture and ship. If you have a question about shipping please email us directly at

 

customerservice@swab-its.com. Your case order gets into production on the day of the order!
To big , I need smaller
I work on watches and need smaller
Great little tools
I purchased these swabs for removing eye makeup errors. Prior to these I would use a cotton swab but that led to small fibers getting in my eyes. These swabs work great. The pointed end is especially helpful in removing mascara at the lash line. I am very happy with these and the price is fair too.
Good for tight areas
They get right down into the corners and engraving grooves.
Handy little cleaning tool
These little, pointed swabs are great or getting into those tight spaces when cleaning my sub-compact pistols. Much better than a brush. I find them also great at cleaning the tiny lense of my laser sight. As a bonus, they are washable and reusable.
Very pleased return customer
I am always pleased with the Swab-its products, that is why I am a return customer.
My main use is for cleaning assorted firearms for both myself and others.
I like the fact that you can clean them with mild soap and water for reuse which is a great cost savings.
I use the precision tip and spear tip for cleaning recessed sight alignment dots of dust and dirt.
They are also very good for all the nooks and crannies you usually overlook when cleaning.
Payment & Security
Your payment information is processed securely. We do not store credit card details nor have access to your credit card information.