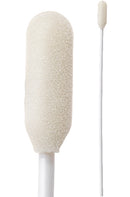 Description
Part Number: 71-4582
Buying Options:
Bag of 50 Swabs
Bag of 500 Swabs
Case of 5,000 Swabs
Product Description: 
6" sock mitt foam swab. White reticulated polyurethane foam on a polypropylene plastic handle.
Head Width: 5mm, .18"
Head Length: 19mm, .75"
Handle OD: 2mm, .093"
Handle Length: 149mm, 5.875"
Overall Length: 152mm, 5.970"
I love SwabIts but,………….!
In my initial order I received one that I really liked but when I tried to re-order it I couldn't find it again. Everything I've tried is not the same. I have tried calling the company, left messages, etc. No one answers or returns phone calls. I've finally given up and gone to another company.
Great little pinpoint tool
This is a great little pinpoint tool that I use to clean those tight little places on my Smith & Wesson M&P Full Size 9mm. It's great for those hard to reach places like inside the rails and around the trigger mechanism. They also don't leave little fuzzies like a Q-tip. I would definitely recommend this product!
Payment & Security
Your payment information is processed securely. We do not store credit card details nor have access to your credit card information.