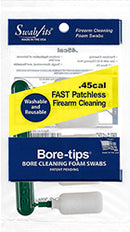 Description
.45cal Gun Cleaning Bore-tips®
A single bag contains (5) Bore-tips®
A value bag contains (30) Bore-tips®
A case contains (12) bags of Bore-tips® - each bag containing (5) Bore-Bore-tips®
A case contains (100) bags of Bore-tips® - each bag containing (5) Bore-Bore-tips®
PRODUCT DESCRIPTION:
Caliber specific, Bore-tips are tough, reusable foam tips engineered for 100% bore contact; spreading fluids more evenly than mops and patches without lint or fibers.  Their non-abrasive foam allows them to be run in both directions, while their absorbency requires less solvent/lubricant.  Washable and reusable, they affix to a standard rifle rod with 8/32 thread.  The .45cal Bore-tip fits standard .45 Auto as well as 45-70 Government, .460 Weatherby Mag, .480 Ruger, .455 Webley, .458 Winchester Mag and others.  It can also function as a chamber brush for .22/5.56.  
NOTES:
A bag contains 5 Bore-tips® on a runner.
Each tip can be used multiple times and should substantially outlast a similar priced bag of patches.
Washable and reusable
Lint-free and fiber-free
Highly Recommended
The easiest to use, so much better than anything else I've tried! These bore swabs are all I'll ever be using in my guns from now on. Great products.
Recommended
Have used a pair of swabs twice so far. They work as long as one brushes at least twice. Easier to use than patches.
I used lots of cleaner, let the barrel soak while I cleaned the rest of the gun, then more solvent and brushed. More solvent and brushed again, soaking swab in mineral spirits and blotting as dry as possible in between. Ran through barrel again. Repeated.
Used a dry swab vigorously, then a regular dry patch to check. Came clean. Finished with an oiled patch, then a dry one.
The swabs wash nicely with dishwashing soap, and look like new after blotting and drying. I don't know how long they will last.
No Complaints
Used 1 tip to clean 5 guns. No issues. No lint. No tearing, wad replacing. Cleaner hands. So far so good.
Highly Recommend
.45cal Bore-tips work exactly as described.
Simple,easy to use with much better results.
The only negative is the product is a little pricy @ $1.30 each
Highly Recomended
Ordered this product from their website. The communication and serviced was excellent. I use Froglube to clean and lube with. The swaps made this a very easy process and washed out with no problem with soap and water. I will be ordering more.
Payment & Security
Your payment information is processed securely. We do not store credit card details nor have access to your credit card information.