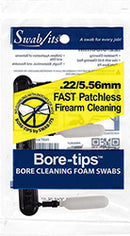 Description
.22cal/.223cal/5.56mm Gun Cleaning Bore-tips®
A single bag contains (6) Bore-tips®
PRODUCT DESCRIPTION:
.22/5.56 Bore-tips are tough, reusable foam tips engineered for 100% bore contact; spreading fluids more evenly than mops and patches without lint or fibers.  Their non-abrasive foam allows them to be run in both directions, while their absorbency requires less solvent/lubricant.  Washable and reusable, they affix to a standard rod with 8/32 threading.    
NOTES:
A bag contains 6 Bore-tips® on a runner.
Each tip can be used multiple times and should substantially outlast a similar priced bag of patches.
Washable and reusable
Lint-free and fiber-free
Awesome products
Try the firearm cleaning package awesome product. Please thank your research and development team I know we will be save time and money with your product.

Thanks Bruce
User Friendly
Simple and easy! Work great and can be cleaned with dish soap and re-used! Great product that I will buy again!!
Payment & Security
Your payment information is processed securely. We do not store credit card details nor have access to your credit card information.