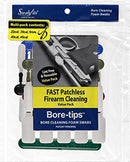 Description
Swab-its® Special Multi-Size Value-Pack: Includes Bore-tips® (6) .22cal, (6) .30cal, (6) .357cal, (5) .40cal, and (5) .45cal. Total of 28 Bore-tips®
Single Bag includes (1) set of each: .22cal, .30cal, .357 cal, .40cal and .45cal
Features:
Offering variety and savings, the Multi-Pack offers five caliber specific Bore-tips sizes.  These are tough, reusable foam tips engineered for 100% bore contact; spreading fluids more evenly than mops and patches without lint or fibers.  Washable and reusable, they affix to a standard rifle & pistol rods with 8/32 thread.  The multi-pack contains 28 swabs:  six .22/5.56, six .357/9mm, six .30/7.62, five .40/10mm and five .45/11.5mm. 
NOTES:
This contains multiple runners: .22cal, .30cal, .357cal, .40cal and .45cal
Includes 28 Bore-tips®
Each tip can be used multiple times and should substantially outlast a similar priced bag of patches.
Washable and reusable
Lint-free and fiber-free
Payment & Security
Your payment information is processed securely. We do not store credit card details nor have access to your credit card information.