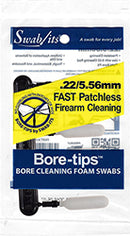 Description
.22cal/.223cal/5.56mm Gun Cleaning Bore-tips®
A single bag contains (6) Bore-tips®
A value bag contains (36) Bore-tips®
A case contains (12) bags of Bore-tips® - each bag containing (6) Bore-Bore-tips®
A case contains (100) bags of Bore-tips® - each bag containing (6) Bore-Bore-tips®
PRODUCT DESCRIPTION:
.22/5.56 Bore-tips are tough, reusable foam tips engineered for 100% bore contact; spreading fluids more evenly than mops and patches without lint or fibers.  Their non-abrasive foam allows them to be run in both directions, while their absorbency requires less solvent/lubricant.  Washable and reusable, they affix to a standard rod with 8/32 threading.    
NOTES:
A bag contains 6 Bore-tips® on a runner.
Each tip can be used multiple times and should substantially outlast a similar priced bag of patches.
Washable and reusable
Lint-free and fiber-free
Great gadget
I figured I would try a few not really being too confident about the results. They work amazingly well
They break easily
The threaded part breaks off easily, usually remaining in the cleaning rod being used. It's more of a pain in the butt to extract the broken portion than it is compared to the benefit of the swab it.
Best Value Product
All of Swab-its firearms cleaning products perform better, easier, and faster than other methods. And they're reusable. That's a win-win-win-win.
Top notch customer service
Had an issue with one of the tips and this company went the extra mile to rectify the issue.
The tips work great for cleaning the bores on my AR-15 and Sr22 and by being washable and reusable, it makes them a great buy
does the job
works great, just ordered more
Payment & Security
Your payment information is processed securely. We do not store credit card details nor have access to your credit card information.