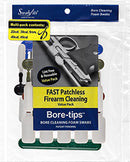 Description
Swab-its® Special Multi-Size Value-Pack: Includes Bore-tips® (6) .22cal, (6) .30cal, (6) .357cal, (5) .40cal, and (5) .45cal. Total of 28 Bore-tips®
Single Bag includes (1) set of each: .22cal, .30cal, .357 cal, .40cal and .45cal
A case includes (4) packages of the Multi-Size Value Package
Features:
Offering variety and savings, the Multi-Pack offers five caliber specific Bore-tips sizes.  These are tough, reusable foam tips engineered for 100% bore contact; spreading fluids more evenly than mops and patches without lint or fibers.  Washable and reusable, they affix to a standard rifle & pistol rods with 8/32 thread.  The multi-pack contains 28 swabs:  six .22/5.56, six .357/9mm, six .30/7.62, five .40/10mm and five .45/11.5mm. 
NOTES:
This contains multiple runners: .22cal, .30cal, .357cal, .40cal and .45cal
Includes 28 Bore-tips®
Each tip can be used multiple times and should substantially outlast a similar priced bag of patches.
Washable and reusable
Lint-free and fiber-free
Great product
I like the ability to rinse and reuse them.no need for so many patches.Great idea, A++?
Highly recommended
I think the swab its make gun cleaning very easy and a pleasure to do. They also clean up nicely as stated. I also think they are worth the money you spend for them. I myself will be purchasing more.
The greatest thing since bullets
The day after I received them I cleaned 6 of my hand guns and I was so surprised at how well they worked and it made the cleaning fun. No more patches and now I enjoy cleaning my guns.
P.S. I cleaned my wife's 22 pistol which I cleaned a week before and was surprised how much cleaner I this gun got using the Swab its. This is a great product and I can't wait till the shot gun ones come out.
Unsure At First
I was doubtful as too how these little foam swabs would work, I was thinking they were going to fall apart! How wrong I was! After a training session, I used the 40 cal. swab and my partner used the 9mm swabs to clean our weapons. Much to both our amazement they performed flawlessly and, more importrantly held together! We both agreed our weapons have never been cleaner! You now have two new converts! We both are now trying to convince others in our group to give them a try! I intend to to try more of your products!
Great Product!!
These are the greatest I've found yet for cleaning your firearms. I bought them for all calibers of guns I own. I've used, and loved, the Otis system but, would still find fibers left behind by the patches. NO FIBERS or other debris found after using Swab-Its. The inventors hit a "home run" with these handy little swabs! The "stick" type swabs they sell are also fantastic at getting into tight places.
Payment & Security
Your payment information is processed securely. We do not store credit card details nor have access to your credit card information.