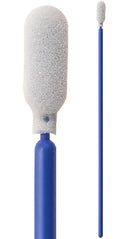 Description
Part Number: 71-4505
Buying Options:
Bag of 50 Swabs
Bag of 500 Swabs
Case of 2,500 Swabs (Bagged in 500's)
Case of 5,000 Swabs (Bagged in 500's - Shipped in 2 Boxes)
Product Description: 
6.47" flexor foam mitt swab. White reticulated polyurethane foam on a blue molded polypropylene plastic handle.
Head Width: 6mm, .25"
Head Length: 18mm, .70"
Handle OD: 4mm, .16"
Handle Length: 163mm, 6.40"
Overall Length: 164mm, 6.470"
Notes:
All cases usually ship within a timely manner (2-4 business days), however, in peak times this

 

case

 

may take several weeks to manufacture and ship. If you have a question about shipping please email us directly at

 

customerservice@swab-its.com. Your case order gets into production on the day of order!
Great Product
We have been using this product to clean the heads of our large format digital printer for the past couple years and cannot me more happy with the results of the swabs.
Tght spaces
Good for those hard to reach areas
Cleaning Made Easier
These swabs are used whenever there are areas that need to be reached for cleaning such as in a semi-automatic pistol slide where the firing pin or striker normally resides.
Great for har to reach areas on guns
This tip is perfect for areas on guns my fingers cannot reach!
Payment & Security
Your payment information is processed securely. We do not store credit card details nor have access to your credit card information.