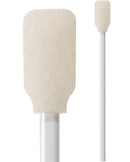 Description
INTERNET ONLY SPECIAL - CASE OF 2,000 FOAM SWABS AT A VALUE PRICE!

Swab-its® 71-4565-2000 • Case of 2,000 Foam Swabs

5.125" rectangular foam mitt swab. White reticulated polyurethane foam on an extruded polypropylene plastic handle.
Cleans wiper blades, capping stations, and the print heads during daily maintenance.
Can be used for gun and bore cleaning, electronics cleaning, auto and aviation applications, banking machines, and gaming machines.
Non-Sterile Swab
Foam Swab Dimensions
Head Width: 13mm, .52"
Head Length: 25mm, 1"
Handle Width: 5mm, .20"
Handle Length: 130mm, 4.875"
Notes:
This case is shipped in bulk in a box. Swabs will be all in the box loose and not in sealed bags. This is an internet-only item and value price. 
worth it
If you work in DTF or DTG screenprinting, you go through a lot of these, to clean around your printhead. This way they cost 7 pennies each.
Great Product and Service!
Our company purchases this product frequently; never have a issue with the product and arrives quickly!
Always great products
Great products from a great company. Good variety of sizes to choose from and per-piece discounts for bulk purchase. We purchase these for head cleaning large format printing printers, but we end up using them to clean all sorts of parts. Customer service is outstanding always. Can't go wrong purchasing from Swab-Its.
Payment & Security
Your payment information is processed securely. We do not store credit card details nor have access to your credit card information.