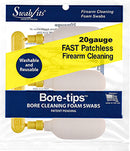 Description
20 Gauge Gun Cleaning Bore-tips® by Swab-its®
A single bag contains (3) Bore-tips®
A case contains (12) bags of Bore-tips® - each bag containing (3) Bore-Bore-tips®
A case contains (100) bags of Bore-tips® - each bag containing (3) Bore-Bore-tips®
PRODUCT DESCRIPTION:
20ga and caliber specific, Bore-tips are tough, reusable foam tips engineered for 100% bore contact; spreading fluids more evenly than mops and patches without lint or fibers.  Their non-abrasive foam allows them to be run in both directions, while their absorbency requires less solvent/lubricant.  Like all Swab-its products, the 20ga Bore-tips are washable and reusable. They affix to a standard shotgun rod with 5/16-27 threading. 
NOTES:
A bag contains 3 Bore-tips®
Each tip can be used multiple times and should substantially outlast a similar priced bag of patches.
Washable and reusable
Lint-free and fiber-free
Works great but expensive
Works great. I use the 20 gauge swaps to clean muzzleloaders. The swab can be washed which is a good thing. If I had to use them and then throw them away it would become very expensive. $2.67 a cleaning would be very expensive.
Great resource for maintaining my gun
Easy to use and does a good job cleaning the barrel!
Great Product
Easy to use and reuse. As a avid skeet shooter, Bore-Tips with cleaning agent take out powder and plastic residue with two passes in the bore. Second tip with oil and you are done without using multiple patches...
Makes Gun Cleaning Easy
I have been using swab-its to clean my 12 ga for as long as I have owned it. Now that I have a 20 ga, I have ordered swab-its for it. After each use (e.g., a 100 clay round), I spay the bore with an aerosol bore cleaner, run a swab-it down to distribute the cleaner, after a few minutes run a different swab-it down to clean up the loose dirt, then finish with a clean, lightly oiled swab-it before I put the gun away.
Payment & Security
Your payment information is processed securely. We do not store credit card details nor have access to your credit card information.