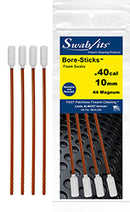 Description
Swab-its® Bore-Sticks™ is the newest more effective way to clean your handgun. The .40cal/10mm/410 Bore-sticks™ offers the best of Swab-its® Bore-tips® in a convenient 8.5 inch handle. 
A case contains (12) bags of Bore-Sticks™ - each bag containing (4) Bore-Sticks™
Bore-Sticks™ is the perfect balance of simplicity and functionality.
Patented designs replace the need for rods, jags, patches, and mops with an engineered durable handle and a lint-free foam tip. This incredible multi-tool compresses in the bore, aggressively penetrating the deepest rifling. As a multi-tool, Bore-sticks are critical to maintaining vital parts of your firearm such as magazines, wells, and chambers. With a quick rinse, this sturdy tool is ready for use again with your favorite solvent and lubricant. Engineered with durable material Bore-Sticks last almost forever.
Includes 4 Bore-Sticks per bag
3 in 1 multi-tool
8.5 inches in length
Washable and reusable
Each tip can be used multiple times and should substantially outlast a similarly priced bag of patches and cotton swabs.
Payment & Security
Your payment information is processed securely. We do not store credit card details nor have access to your credit card information.