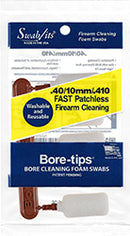 Description
.40cal/10mm/410 Gauge Gun Cleaning Bore-tips®
A single bag contains (5) Bore-tips®
A value bag contains (30) Bore-tips®
A case contains (12) bags of Bore-tips® - each bag containing (5) Bore-Bore-tips®
A case contains (100) bags of Bore-tips® - each bag containing (5) Bore-Bore-tips®
PRODUCT DESCRIPTION:
Caliber specific, Bore-tips are tough, reusable foam tips engineered for 100% bore contact; spreading fluids more evenly than mops and patches without lint or fibers.  Their non-abrasive foam allows them to be run in both directions, while their absorbency requires less solvent/lubricant.  Washable and reusable, they affix to a standard rod with 8/32 thread.  The .40cal Bore-tips also fit .410 shotgun, 10mm and .41 and .44 magnums.
NOTES:
A bag contains 5 Bore-tips® on a runner.
Each tip can be used multiple times and should substantially outlast a similar priced bag of patches.
Washable and reusable
Lint-free and fiber-free
great product
Just the right size to clean bore. Easy to clean when done, and reuse
Cleaning Made Easier
These swabs are used whenever there are areas that need to be reached for cleaning such as in a semi-automatic pistol barrel chamber afrea or the complete bore. They are easily cleaned and last for many cleanings. I use these exclusively for the final passes and to apply a thin layer of lubricant to the bore.
Great on the M&P
after running about 400 rounds through my 40 I used the 40 bore tip to clean, worked great! Much better than the patches, best of all washed it out with some warm wateer and dawn dish soap, came out great look forward to reusing it!
Payment & Security
Your payment information is processed securely. We do not store credit card details nor have access to your credit card information.