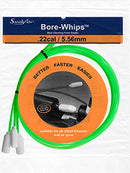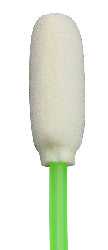 Description
.22cal/5.56mm Pull-Thru Gun Cleaning Bore-whips™ by Swab-its®
A single bag contains (3) Bore-Whips™
A case contains (12) bags of Bore-Whips™ - each bag containing (3) Bore-Whips™
PRODUCT DESCRIPTION:
A pull-through design in .22/5.56 caliber,  the translucent whip functions as an empty chamber indicator (ECI).  The Bore-Whip is particularly well suited for the demands of cleaning airguns, while being equally functional on centerfire and rim fire.  A  great range bag addition, the Bore-Whip simplifies cleaning and lubrication of more difficult  to access guns like a Ruger 10/22 or Mark III.  
NOTES:
A bag contains 3 Bore-Whips™
Each tip can be used multiple times and should substantially outlast a similar priced bag of patches.
Washable and reusable
Lint-free and fiber-free
Nice job
Work well and clean up nicely for reuse
Gun swabs
Great product I just used mine for first time after being at the range used them on my 9,40,45 and 22 they are great for cleaning in trigger areas,receivers,inside the slides and getting down inside the grip area and bore tips are asome much easier and better than using the pain in the ass patches recommend this to all gun owners and they clean up easy and can be reused
Bore Whip
Lightweight, rigid enough to feed down the barrel, scratch resistant, accepts all the bore tips with 1 whip, functions as a chamber flag and can be cut to size for shorter barrel rifle or pistols.
so easy
SO SIMPLE TO USE, MAKES GUN CLEANING A BREEZE AND LIKING IT, TOO.
Highly Recommended
Always pleased with products.
Payment & Security
Your payment information is processed securely. We do not store credit card details nor have access to your credit card information.