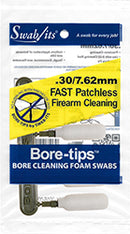 Description
.30cal/7.62mm Gun Cleaning Bore-tips® by Swab-its®
A single bag contains (6) Bore-tips®
A value bag contains (36) Bore-tips®
A case contains (12) bags of Bore-tips® - each bag containing (6) Bore-Bore-tips®
A case contains (100) bags of Bore-tips® - each bag containing (6) Bore-Bore-tips®
PRODUCT DESCRIPTION:
Caliber specific, Bore-tips are tough, reusable foam tips engineered for 100% bore contact; spreading fluids more evenly than mops and patches without lint or fibers.  Their non-abrasive foam allows them to be run in both directions, while their absorbency requires less solvent/lubricant.  Washable and reusable, they affix to a standard rifle rod with 8/32 thread.  The .30cal/7.62 works well with AR-10 platform, .308, 30-06, and 30-30 among others.  
NOTES:
A bag contains 6 Bore-tips® on a runner.
Each tip can be used multiple times and should substantially outlast a similar priced bag of patches.
Washable and reusable
Lint-free and fiber-free
Unique piece
After purchasing the swab it for 22 caliber and liking the job it did I read some reviews of the 30 caliber that weren't very favorable. I decided to try it on my own and I'm very happy with the results.
environmentally friendly
I purchased some for all my calipers. Very satisfied with the quality. Easy to clean for reuse. An excellent idea for gifting.
Swab it .30/7.62
The 7.62/.30 works great. It is an awesome addition to my cleaning tools and I expect my clients will be interested in it too. Shipped quickly, no issues, minimal packaging which is good. All in all a great purchase and even better, it's economical. Thank you Swab it!!!!!!
Great swabs
While I have not used these swabs for a .30 barrel, I have been using them for cleaning out some stainless steel tubing that is the same size and these have heard up great. They do a better job of cleaning and last longer than the other pads i have been trying. These will be in my toolbox for cleaning for years to come.
Excellentscrubbers
These work very well for scrubbing (light build-up)but really shine when used as the last step after solvent is in the bore....one final push with a clean Bore-tip and junk pops out of the grooves like magic.
Payment & Security
Your payment information is processed securely. We do not store credit card details nor have access to your credit card information.