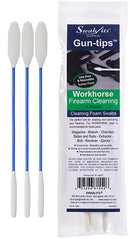 Description
Swab-its® Cleaning Swabs: precision cleaning for achieving optimal cleaning results.
Visit Swab-its® safety section to learn more about cleaning with our Bore-tips™ - click here for Swab-its® safety section.

3 PACK OF DOUBLE-ENDED WORKHORSE SWAB : Swab-its 81-5527
Gun-tips™ Bag of 3 Double-Ended Gun Cleaning Swab
Swab-its® brand new double-ended gun cleaning swab - featured by eNosArmory
"My favorite tool for cleaning, the workhorse of my gun cleaning regiment" eNosArmory. - Click here to view his review!

Please Note: Bore-tips are not recommended for use with solvents designed to remove plastic.

Tough and Reusable - Clean and Reuse - WASHABLE
Lint free and Fiber Free
Follows rifling
Tight bore fit
Maximum cleaning & lubricating
Withstands many tough solvents
Economical and efficient
Non-Sterile Swab
Foam Swab Dimensions
Head Width: .50" & .25"
Head Length: 2" & 2"
Handle Width: .15"
Handle Length: 8.5"
Brand New 8.5" Double-Ended Workhorse
I found these to so great to use an easy, make cleaning a breeze to do on the gun. now i got do is to get your bore snake. thank you
Workhorse
Excellent! I found the small end very useful for cleaning the chambers of the cylinder for a 22 revolver. Also great for small 22 handguns (Beretta 21A). Large end good for 44 cylinder. Would like to see one that works in 38 Spc. cylinder.
Double ended cleaning swab
Great product, great quality, great price and to top it off free shipping.
Double ended swabs
A MUST HAVE for every cleaning kit
perfect tool
Perfect for all your gun cleaning needs!
Payment & Security
Your payment information is processed securely. We do not store credit card details nor have access to your credit card information.