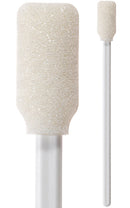 Description
Part Number: 71-4501
Buying Options:
Product Description: 
5" rectangular foam mitt swab. White non-reticulated polyurethane foam on a polypropylene plastic handle.
Head Width: 13mm, .50"
Head Length: 25mm, 1"
Handle Width: 5mm, .19"
Handle Length: 125mm, 4.92"
Overall Length: 129mm, 5.063"
Swabs
We go through a lot of these. They work very nicely & ship quickly.
Best swabs for cleaning a printer
We use these to clean the printheads on our industrial printers each week. No lint, no stray cotton trails. Works like a charm.
Payment & Security
Your payment information is processed securely. We do not store credit card details nor have access to your credit card information.