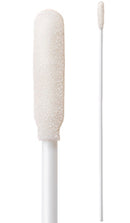 Description
Part Number: 74-0122
Flash Sale Item - Sold As Is!
Buying Options:
Product Description: 
6" sock mitt foam swab. White reticulated polyurethane foam on a polypropylene plastic handle.
Head Width: 5mm, .18"
Head Length: 19mm, .75"
Handle OD: 2mm, .093"
Handle Length: 149mm, 5.875"
Overall Length: 152mm, 5.970"
Great swabs great price
These swabs are great. Durable, washable, and reusable. At $40.00 for a bag of 500 that's .08 cents a swab, with free shipping it's a no brainer I use these for gun cleaning, auto detailing, electronics and computer maintenance. I have given some of these swabs to friends at my gun club with your contact information. Your going to have a lot more customers in the near future.
Excellent!
This was an awesome deal and these are great for cleaning your gun, getting into hard to reach places. I have used swab-its for years now and they are by far the best thing out there for this kind of product.
Payment & Security
Your payment information is processed securely. We do not store credit card details nor have access to your credit card information.