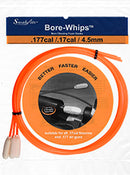 Description
.17cal/.177cal/4.5mm Air Rifle Gun Cleaning Bore-whips™ by Swab-its®
A single bag contains (3) Bore-Whips™
PRODUCT DESCRIPTION:
A pull-through design in .177/4.5mm caliber, the translucent whip functions as an empty chamber indicator (ECI). The Bore-Whip is particularly well suited for the demands of cleaning airguns, while being equally adept on centerfire and rim fire.  A  great range bag addition, the Bore-Whip simplifies cleaning and lubrication of more difficult to access guns.  
NOTES:
A bag contains 3 Bore-Whips™
Each tip can be used multiple times and should substantially outlast a similar priced bag of patches.
Washable and reusable
Lint-free and fiber-free
Disappointed.
Used this product before with fantastic results however my last order came "Flat as a Pancake" due to way too much crammed into the mailer. Will order them again and hope for a better packing job.
Works great, but the pull through line is a bit to stiff. Would like it a bit more flexible.
Doubly handy
The easiest way to clean the small bore of a .177 cal air rifle,
Easy to use after the swab is beaten up as a range flag.
The attached swab works better than a patch in the air rifle bore, while protecting the bore with the plastic whip. I have been drafted by my neighbor when the boy scouts are due for their shooting badge. Once the neighborhoods air rifles are collected up the scouts start with cleaning and lubricating. Then safety and handling which includes using the whips as range flags. The neighbors are happy to get their rifles back all cleaned and lubed.
Payment & Security
Your payment information is processed securely. We do not store credit card details nor have access to your credit card information.